Prošlo je 540 godina otkako je bosanska kraljica Katarina, u dalekom Rimu, predalekom od domovine, otišla u vječnost. Nedosanjani san da ponovno vidi svoju djecu, da udahne zraka bosanskog i da svoje kosti spusti u voljenu grudu, predala je upravo toj vječnosti
Piše: Leonard Valenta
Koliko je dugo otada hučala Trstionica podno Bobovca? Koliko li je mirnog Tibera prošlo kroz Vječni grad, gdje posljednja bosanska kraljica u nespokoju ostavi svoje kosti? Ni sva slava i sjaj Rima, ni sve počasti koje joj u posljednjem ispraćaju ukazaše franjevci kapitolinske crkve Aracoeli nisu bili plaća za bol koju u svojim grudima ponese kraljica-patnica. Možda tu bol najbolje poznaju one kojoj su joj za života u Bosni bile i najbliže, sutješke žene, koje se od tada pa sve do naših dana ruše u crne marame nazvane Katarinke. U narodnoj predaji osta još i kraljičin uzdah:
"Zbogom ostaj moja Bosno slavna. I u tebi do tri moja dobra!" (izvor Radakovice, riba iz Bukovice i pšenica iz Liješnice)
Tako je i povijest i predaja ovjenčaše aureolom tragičnoga lika povijesti na zalasku srednjovjekovnog Bosanskog kraljevstva. Ipak, lik i život posljednje bosanske kraljice nisu bili ispunjeni težinom samo pred konac srednjovjekovne bosanske države. Katarina je rođena iz braka bosanskog velikaša Stjepana Kosače i Jelene iz roda Balšića. Blaga narav i trpeći život majke uz osionog i nevjernog Kosaču, ispreplitali su Katarinin život. Bezbrižnost djetinjstva Katarina je zamijenila brojnim putovanjima u pratnji oca, ponajprije po dalmatinskim gradovima a onda i dalje. Kao mlada plemkinja, Katarina je već od ranog djetinjstva mnogo toga naučila i vidjela. Vidjela je zasigurno i čula bijes oca, jednog od najmoćnijih velikaša ovih prostora u to doba, kojeg su odlikovali upravo osionost, brakolomstvo i politički oportunizam. Obitelj je u Katarininoj mladosti nerijetko bila podijeljena, Kosačini sinovi su ratovali protiv oca, vojske su bile podijeljene. A Katarina? Katarina je u sjeni oca i svoje braće Vladislava i Vlatka rasla, u tišini i na marginama. Kada je trebala poslužiti velikim interesima oca, Katarina s margina plemićkog života izlazi na kraljevske stranice bosanske povijesti. Otac je, iz uobičajene prakse za to doba da se savez i mir zaključi rodbinskim vezama, udaje za bosanskog kralja Stjepana Tomaša. Ne zna se je li Katarina svog muža vidjela prije braka, ali je poslušno prihvatila svoju zadaću. Samo se mogu pretpostaviti strahovi, sumnje, razmišljanja mlade Katarine pred udaju: tko je kralj, kakav je, kakve je naravi, hoću li mu biti dobra, hoće li prema meni biti blag…? Rojile su se misli svakako u glavi mlade djevojke, ali Katarina je strpljivo i šutke prihvatila svoju ulogu.
Kraljica Katarina Kotromanić u mnogočemu oslikava Bosnu. Ona stoji kao trajan lik koji nas opominje da se zapitamo kakav mi odnos imamo prema ovoj zemlji i kakvu joj budućnost želimo.
Iz kraljevskoga braka nikla su dva cvijeta: Sigismund i Katarina, zasigurno najsvjetlije točke Katarinina života! Svjetionik prema kojem je kraljica upravljala svoje emocije, misli i molitve. U početku bezbrižni dani kraljevanja, zasjenjeni su ponovnim rasplamsavanjem sukoba kralja i velikaša Kosače, sada zeta i punca. Samo zidovi Bobovca znaju koliko li je teških riječi palo, koliko prijekih pogleda u kraljevskim odajama za tog sukoba. Katarina je bila u procjepu između oca i muža, ona koja je činila njihovu sponu, sada je bila okosnica svog tereta koji se svalio.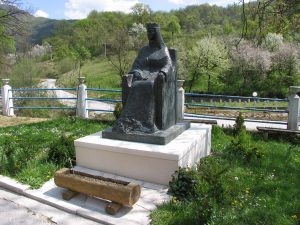 I sve je to bila tek uvertira u Katarininu životnu tragediju: smrt kralja i njezina muža Stjepana Tomaša, neizvjesnost odnosa s novim kraljem iz muževog prvog braka utrli su trnovit put Katarini. Iako je novi kralj Stjepan Tomašević Katarinu priznao za kraljicu-majku, Katarina se povukla u mirni i povučeni život u zavučeni i strmi Kozograd ponad Fojnice. Tu je zatječe i životna opasnost – provala ogromne osmanske vojske u Bosnu, u proljeće 1463. godine. I poput kule od karata urušava se cijeli jedan život: u osvajanju Bosne padaju gradovi jedan za drugim, kralj je ubijen, a kraljica vratolomno bježi prema jugu spašavajući svoju djecu i sebe. U općem kaosu Osmanlije presreću skupinu s Katarininom djecom i zarobljavaju malene Sigismunda i Katarinu. Ovu stravičnu vijest Katarina doznaje tek u Dalmaciji, na putu za Dubrovnik. Povijesni podaci nisu zapisali, a i kako bi, svu unutarnju borbu Katarine koja se kao majka htjela vratiti, a kao kraljica znala i svi joj savjetovali da je to sigurna smrt bez mogućnosti da spasi svoju djecu. Izlaz je jedino mogao biti obnova danih obećanja pape i kršćanske Europe za obranu Bosne od napada sultana. Stoga, kraljica odlazi u Rim, ne znajući da će sve nade tamo trajno i ostaviti. Dvadeset godina molbi, molitve, agitiranja, htijenja i izmoljenih obećanja ostajale su tek blijeda slika europskih obećanja. San o ponovnom viđenju svoje djece, o povratku u voljenu Bosnu ostao je nedosanjan. Predala ga je vječnosti, i u njoj se moleći za povratak djeci i domovini.
I danas, 540 godina kasnije taj san se sanja. I danas Europa ostaje nijema prema vapajima bosanskih majki koje po božanskom promislu iznjedriše život ispod ovog komada neba Bosnom zvanim. I danas majke traže svoju djecu, kao Katarina. I danas se vapaj uzdiže sve do neba, ispunjen molitvama i suzama.
Kraljica Katarina Kotromanić stoga u mnogočemu oslikava Bosnu. Ona stoji kao trajan lik koji nas opominje da se zapitamo kakav mi odnos imamo prema ovoj zemlji i kakvu joj budućnost želimo.
Izvor: Kalendar sv. Ante (2018.)