Uz obljetnicu smrti žalosne bosanske kraljice
Ako sudbine pojedinaca mogu reflektirati sudbine cijelih naroda i njihovih kultura onda životni put posljednje bosanske kraljice okončan 15-godišnjim iskustvom izbjeglištva najvjernije zrcali sinkretički karakter bosanskog katolištva kao njegovu kozmičku datost. Utkano u dramu velike povijesne prijelomnice, u dramu smjene kulturoloških obrazaca, Katarinino izbjeglištvo i odnjegovani kult franjevačke pobožnosti koji se pod teretom životnih nedaća rascvao u svoj najviši izraz – u svetost – nadrasta okvir pojedinačnoga slučaja postajući svojevrsnim dijelom globalnih povijesnih datosti.
Sjedinivši već u svojem podrijetlu velike kulturne ideje – na dvoru njezina oca hercega Stjepana Vukčića Kosače uz predstavnike Crkve bosanske boravilo je pravoslavno i katoličko svećenstvo, a majka joj je bila pravoslavna Jelena Balšić – Katarina se nakon udaje za Stjepana Tomaša 1446. duhovno oblikovala pod snažnim utjecajem bosanske franjevačke zajednice. Napuštajući Bosnu u ljeto 1463., Katarina se preko Stona i Dubrovnika otisnula u Rim gdje je provela zadnjih 14 godina života.
Lišena kraljevstva i djece (Sigismunda i Katarina) koja su u međuvremenu kao taoci odvedeni iz Bosne i primili islam, narušena zdravlja, svedena tek na golo preživljavanje u tuđini gdje se malo tko istinski mogao pozabaviti njezinim slučajem… bosanska je primadona, prema svim svjedočanstvima, zadržala neokrnjeno vladarsko i ljudsko dostojanstvo, uz sve to živeći naglašeno pobožno i skromno. Osobito prisne veze njegovala je s franjevačkim samostanom Ara Coeli u Rimu gdje je pristupila bratstvu trećeg Reda sv. Franje. Ovdje je bilo aktivno i Društvo Bl. Djevice Marije koje se staralo za bolnicu sv. Alberta, kraljica ga je svojski pomagala i dugo nakon njezine smrti članovi društva služili su godišnju misu za pokoj njezine duše.
Katarinin pobožni lik zrcali ponešto od onoga "ideala svetosti" tako bliskog viteškoj romanici, ideala kojemu su služili pojedini srednjovjekovni vladari, "koji donekle osvjetljava odnos između dvorskih krugova i svetosti". Nije to, međutim, bio onaj grčeviti tip pobožnosti svojstven tadašnjim pripadnicima viših društvenih krugova koji se razvijao kao odgovor na teški životni balast "razmetljiva sjaja i snažne težnje za uživanjem". Na Katarininom primjeru očituje se zanosna romantika svetosti u kojoj se svetim ne postaje "zbog svojih crkveno-socijalnih zasluga, ma kako one bile velike", nego se "svetim postaje zbog svoje čudesne pobožnosti"…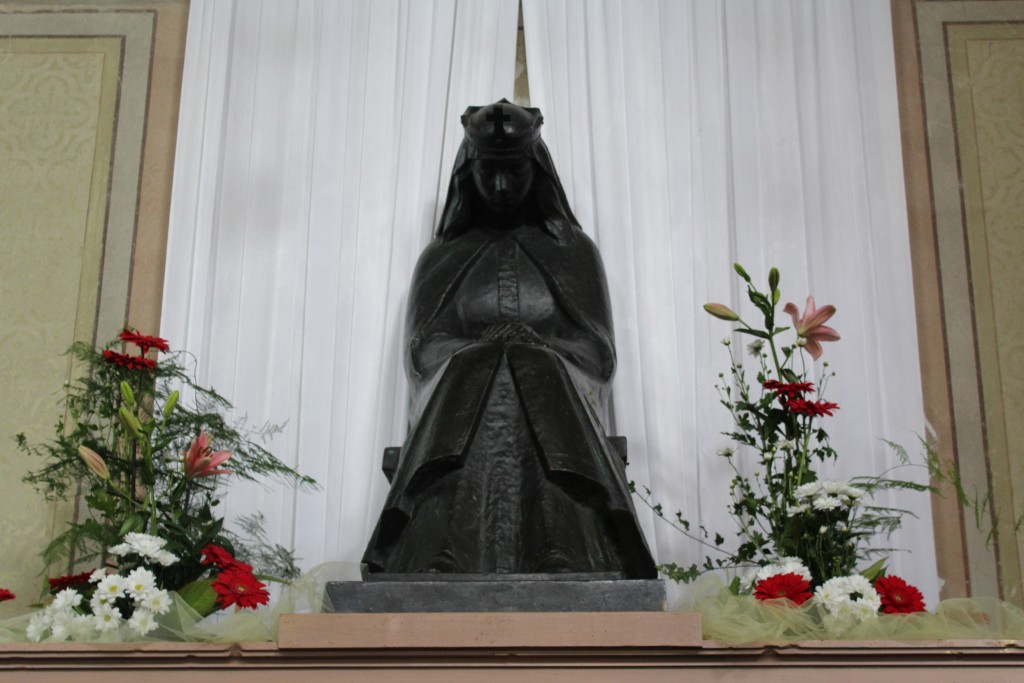 Katarinina je pobožnost pripadala onoj vrsti specifične pobožnosti dvorskih krugova srednje i srednjoistočne Europe koja se od XIII. stoljeća razvijala pod utjecajem franjevačkoga reda. Tako se formirala cijela plejada ženskih likova iz aristokratskih krugova srednjovjekovne Europe kojoj, primjeri, pripadaju Poljakinje Kinga, Salomea i Jadwiga, Agneza iz Češke, Elizabeta iz Turinške i Margareta iz Ugarske. Na Katarininu primjeru, u trenutku kada je bosansko kraljevstvo pet dana pred smrt testamentarno ostavila papi Sikstu IV. i njegovim zakonskim nasljednicima, istodobno se ogleda tijesna povezanost između privatne i "državne" pobožnosti, tako karakteristične za vladarski milieu njezina vremena. Na koncu, Katarinin svetački lik realistički je prikazan s jeseni srednjega vijeka na nadgrobnoj ploči rimske crkve Ara Coeli u kojoj je bila pokopana, svojim ćiriličnim natpisom simbolizira čin izmirenja ćirilo-metodijansko-latinskih napetosti između Bosne i Rima koje su u jednom momentu ozbiljno zaprijetile njihovim trajnim međusobnim udaljavanjem.
Prakticiranjem vjere na način koji je u Rimu tako snažno očitovala žalosna bosanska kraljica otvara novo poglavlja o povijesti bosanskoga katolicizma u kojemu je vjera zračila ne samo kao osnovni životni sadržaj već i sredstvo biološkog opstanka. Sklonjena u trošni samostan franjevačke provincije i redodržave Bosne Srebrene koji najbolji "bosnolog" današnjice S. M. Džaja imenuje "društvenom strukturom naše povijesti koja se najpotpunije dokumentirala i u svojim spisima sačuvala dragocjene podatke i ostalima koenzistentnim strukturama Bosne." A zapadnoeuropska kultura održala se na ovom prostori isključivo kao plod "osobnih zalaganja (franjevaca), ponekad uz vrlo skupu cijenu". Jedan globalni presjek kulturnoga stvaralaštva bosanskih franjevaca nedvosmisleno pokazuje "egzistencijalni karakter njihove kulturne djelatnosti, koja nije nastajala kao jedna uhodana institucionalna praksa za to zaduženih ljudi, nego se rađala kao egzistencijalni odgovor iz osobna uvjerenja na datu situaciju vremena…"
Stoljećima gajeći uspomenu na posljednju bosansku kraljicu i trećoredicu, bosanska je franjevačka zajednica posredovala ovu predaju u svijet preko pučke kulture u kojemu je, doživjevši novu preradu, ostala zapamćena kao legenda o tri kraljičine posljednje želje: o vodi sa Radakovice, o ribi iz Bukovice i pšenici sa Liješevice… Onima koji su imali sreću da upoznaju gotovo nestvarno lijepe pejsaže Kraljeve Sutjeske i Bobovca gdje se nalaze ovi toponimi neće biti problem povjerovati u priču, mada to u ovom slučaju i nije najvažnije.