Kraljeva Sutjeska i Bobovac: Stazama kraljeva pogrešnih imena
Predaja kaže da je Mehmed el-Fatih sa 20 000 vojnika sedam godina opsjedao Bobovac, svakodnevno rušeći njegovih 11 kula, ali što bi on danju srušio, to bi narod noću obnovio.
Preuzeto sa portala www.bljesak.info: rubrika – Putujte s nama, autor – Milo JUKIĆ
U Kraljevoj Sutjesci sam bio barem dvadesetak puta, a na Bobovac mi je ovo bilo deseti put. Samo prvi put sam tamo "išao", svaki sljedeći put sam hodočastio. Nijednom, naravno, kad tamo hodočaste stotine ljudi, a na Bobovcu se služi misa, već uvijek za se, svojim poslom i za svoj ćeif. Ovaj put sam na toj strani s ekipom jedne domaće televizijske kuće pa baš i nemam prostora izvoljevati sa zastajanjem i slikanjem, ali je slika, što onih na računalima, što onih u glavi, ionako mnogo kao niodkud drugo. Ne jednom sam pročitao da su bosanski vladari ovo područje izabrali za glavno zbog geostrateškog položaja. Možda, ali sam siguran da nije bilo samo to (ako je uopće bilo to) već neka posebna energija koju imaju i Sutjeska i Bobovac. Ne izmišljam, sam sâm to osjatio svaki put kad bih se našao na tom prostoru, a kasnije su mi takav osjećaj potvrdili i drugi koji tamo hodočaste.
Dah starih vremena osjeti se, a i otjelotvori, već malo nakon ulaza u Sutjesku: za malu četverostranu džamija s krovom od kaplame i prekrasnom drvenom munarom kažu da je najstarija u našoj zemlji, u što je svakako utkana i legenda, jer ih ima još 5-6 za koje se priča isto. Legenda kaže da je, po naređenju Mehmeda el-Fatiha, sagrađena za svega nekoliko dana i to tako čvrsto da je nikad nije trebalo obnavljati, mada se sjećam slika od prije možda desetak godina kada je džamijski krov temeljito saniran, kada je crijep ponovno zamijenjen kaplamom. Pedesetak nišana u haremu tiho snatri, kao, uostalom, i čitavo mjesto, koje danas ne broji ni četvrtinu predratnog stanovništva, i to uglavnom starijeg svijeta. Pusto, nigdje nikoga, za sat vremena pomoli se jedan auto iz pravca Kaknja i, sa suprotne strane, jedan kamion natovaren balvanima. Preko puta stoji prazna austrougarska školska zgrada u koju su nekad nastavu slušala 1193 učenika, a učila su ih 52 prosvjetna radnika; u dvije smjene nisu mogli stati pa je napravljena međusmjena. A danas… Danas je prazna, jer djece nema. Ime nosi po portugalskoj pjesnikinji Agustini Bessa-Luis; zgradu su obnovili Portugalci pa je naziv škole bio mali znak zahvalnosti Sutješčana. Ispostavilo se da je sve bilo uzalud: žbuka sa zidova polako se runji, zlatni prah drugog prezimena pjesnikinje već je u prašini, dječje zvijezde i sunca polijepljena po prozorima tužno tonu u prašinu.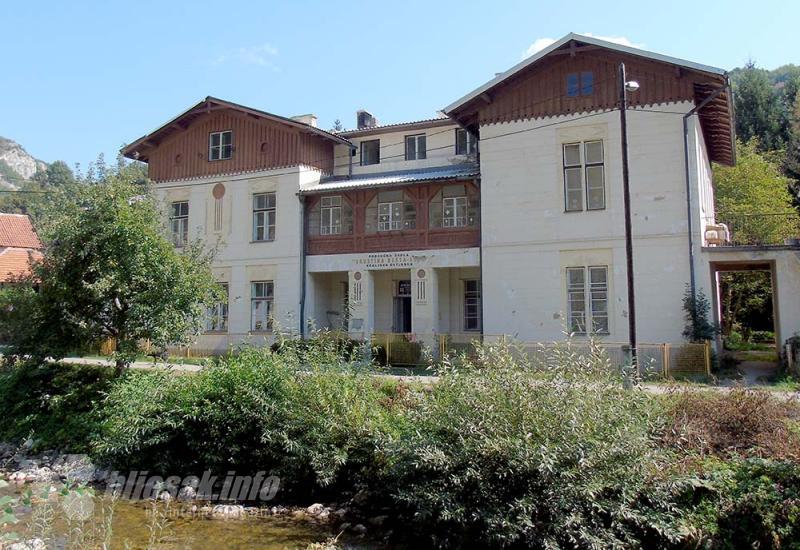 Rječica Trstionica se lijeno valja, osiromašena još uvijek gotovo ljetnom vrućinom, a ponisko iznad nje orao se uzalud klinči snagom svojih krila, slabo ga iko ima vidjeti. Pred Dusperovom kućom, najljepšom i najstarijom (prva polovica 18. stoljeća) u naselju, također nikoga, sa polukružne drvene verande na prolaznike gleda samo tišina, a i sve ostale stare kuće, neke još uvijek sa odavno crvotočnim ćepencima, stidljivo se pokazuju, pomalo već odvikle od znatiželjnih pogleda. "Brkin dućan", jedina prodavaonica u naselju, zatvoren, vlasnik vjerojatno nema potrebe držati ga otvorenim puno radno vrijeme. Sutjeska je do prije pedesetak godina bila čaršija, povelika, sve je vrvjelo od ljudi; u to je vrijeme današnje općinsko središte, Kakanj, tek listalo početnicu i sricalo prva slova abecede. K kao kraljica, K kao Katarina, K kao Kosača.
Do prije nekog vremena brončani kip kraljice Katarine Kosača stajao je s unutarnje strane samostanskog dvorišta, a onda je spušten na za to skladno uređen prostor pokraj samostanske kapije. Bronca se pregrijala na suncu pa oprljih usne ljubeći i ruke grleći Kraljicu. Lica pomalo odsutnog, gledajući jedva živo selo, ni kraljica ne progovara nijedne. Fratri danas imaju duhovne vježbe i zauzeti su pa u samostan ni ne svraćamo. Naravno da bi se jedan solidan putopis mogao napraviti samo kroz samostansku knjižnicu, muzej i crkvu, ali bi se mnogo sabralo i u obilasku okolnog prostora. "Velebno zdanje samostana", kako ga jednom davno opisa moja prijateljica Žana, među zapuštenim i napuklim kućercima, praznim i prljavim izlozima, paučinom prekrivenim pokušajima oživljavanja i ehom nekih davnih slavnih vremena, onom ko slučajno zaluta u Sutjesku sasvim sigurno djeluje kao čudo; ne sumnjam da se nađe i onih koji, kad se vitki zvonici zabjelasaju između sivila naselja i plaveti neba, protrljaju oči ili se uštinu za obraz: pa je li ovo moguće?! Jest, a samostan usto nije baš "obični" već jedan od svega tri u našoj zemlji – uz one u Fojnici i Kreševu – koji je, unatoč rušenjima i paljevinama, uspio opstati tijekom cijele višestoljetne osmanlijske vladavine ovim krajevima. Hoće li preživjeti i (po)ratni egzodus, vidjet će se. Ako poživi, za dvadesetak godina proslavit će 700. rođendan, čime se ne može pohvaliti nijedna druga institucija u Bosni i Hercegovini.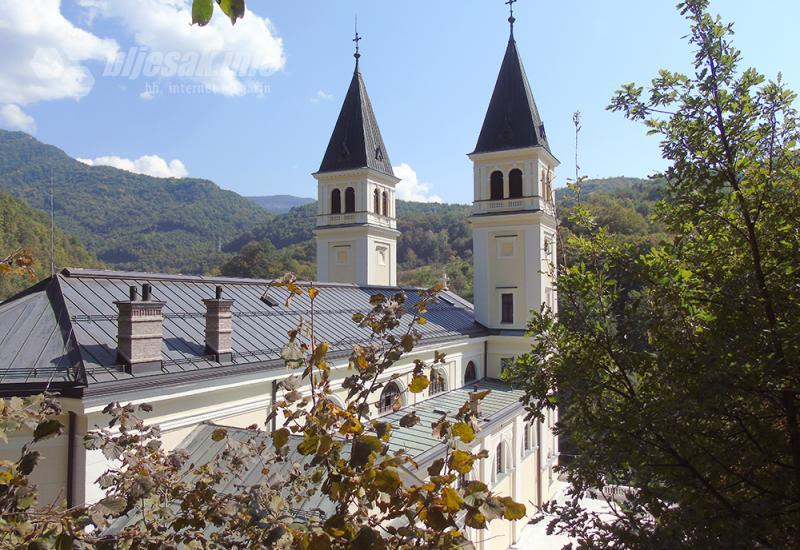 Na samostanskoj podzidi dva velika mozaika. Na jednom, kvadratnom, natpis o tome što je Sutjeska nekad bila, a ispod likovi kralja Stjepana Tomaša, kraljevska kruna i kraljevski dvor, ovdašnji, eno ga na kraju fratarskog šetala, na mjestu zvanom Grgurevo. Ostale su, dakako, samo zidine u kojim se, uz kraljevsku palaču, raspoznaju i ostaci dvorske kapele svetog Grgura, građene, pretpostavlja se, u gotičkom slogu. Grgur Naziazenski, prijašnji zaštitnik Bosne, nije, izgleda, obavljao svoj posao baš čestito, a njegov imenjak, još jedan sveti Grgur, dobio je tu ulogu tek 1461. godine, kad je, po svemu, već bilo kasno. Odatle se najbolje vidi i partizansko groblje, zaraslo u travu, tužno kao i sve ovdje; kažu da je onodobna vlast muku mučila da ga napravi, jer domaćih partizana nije bilo, a Kraljeva Sutjeska je u to doba bila općina i morala, kao i sve druge, imati takvo mjesto, pa su, da ga ipak formiraju, morali donositi kosture iz drugih krajeva.
Drugi mozaik, preko puta ulaza u samostan, prikazuje svetog Franju okruženog sljedbenicima. Raspeti Krist ih obasjava s jedne, a žutobijelo sunce s druge strane. Uz podzidu već godinama stoje prislonjena dva duguljasta nadgrobnjaka s isklesanim križevima, usred cvijetnjaka bogato ukrašen stećak sandučar, neki bezglavi na njemu pruža ruke kao da nekog očekuje u zagrljaj, a između prvog prozora do ulaza i mramornog latinskog natpisa o gradnji samostana brazgotina od granate ispaljene tijekom rata. Jer fratri su, kao što znamo, bili naoružani do zuba i nije bilo druge već ih gađati granatama kao u Sutjesci ili im uraditi ono što im je urađeno u Fojnici. Nakon što samostan i Sutjeska ostanu za leđima, prvo se naiđe na selo Ratanj. Tu su valjda srednjovjekovnim zaslužnim ratnicima, baš kao danas šefovi stranaka ratnim veteranima, kraljevi davali placeve, možda i materijal za kuću od temelja do krova. Selo je do rata imalo okruglo 350 stanovnika, a sada se vide tek urušeni ostaci kućnih krovova i zidovi iza kojih raste šuma. Prije četiri godine u tom je selu ubijeno dvoje staraca povratnika. Ubojica se zna, priznao je zločin, ali zatvora pošteno nije ni vidio. Kažem to zabog onih koji će se iščuđavati i liti krokodilske suze što selo izgleda ovako kako ga opisah.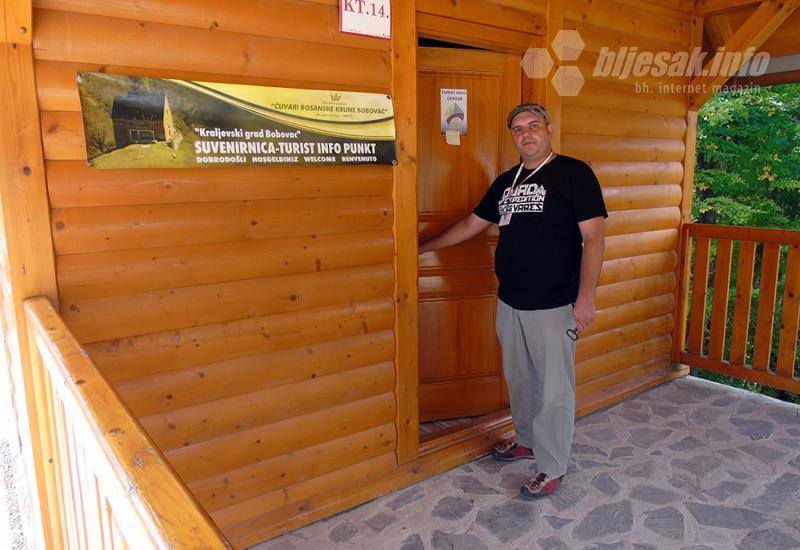 S druge strane brda su Kopijari, bit će mjesto gdje je tijekom srednjovjekovlja funkcionirala ratna proizvodnja, a koplja bila glavna. Od Ratnja se razlikuje ne samo po tome što nema ni table s nazivom već i po tome što je dobar dio područja oko sela i dalje miniran. Stanovnika je do rata bilo 195, a sada nula. Danas je selo potpuno zaboravljeno, u medijima ga ne spominje doslovno niko osim lokalnih medija (dok su postojali), mada ne znam niti postoji ijedno mjesto u našoj zemlji u kojem je broj pobijenih u odnosu na broj stanovnika velik kao u Kopijarima. Od kuća su ostali samo najčvršći zidovi, sve ostalo je pretvoreno u prah i pepeo.
Između Ratnja i Kopijara je granica općina Kakanj i Vareš. Kad sa mnom ide neko ko dotad nije bio na Bobovcu, tu, na prijevoju, obvezno stanem i zamolim da pogledom potraži grad. Svi, ali baš svi traže ga po visokim okolnim bradima, a umjesto njega "nalaze" samo vareško selo Borovicu i tamošnju crkvu. Prijestolnica se šćućurila dolje, ušuškavši se u dubokoj zavjetrini između brda. Danas se zrakom prosula izmaglica pa je u šarenilu jesenskih boja jedva vidljiv i tu ne pomaže nijedna opcija na foto-aparatu. U dolini se razlila rječica Bukovica. Konji mirno pasu, izletnika nema, tišina i mir se ne bi dali izmjeriti nikakvim instrumentom.
Mijakovići i Dragovići se sela s jedne i s druge strane planinskog sedla s kojeg se pješke kreće ka Bobovcu. Kuće čitave, ovdašnji stanovnici prije 25 godina nisu morali nikud s kućnih pragova i evo ih, razlazali se po dvorištima i okolnim livadama, svako za svojim poslom. Auto se ostavlja na sedlu, a onda slijedi šetnja, ili starom, originalnom kraljevskom stazom, ili novouređenim, popločanim puteljkom. S nama će i Admir Čizmo, profesor geografije, a ovdje naš domaćin i vodič. Svakodnevno dolazi iz 19 kilometara udaljenog Vareša, prodaje posjetiteljima karte i suvenire poredane po zidovima brvnare u kojoj se nalazi njegov ured te ih upućuje u povijest Bobovca, ali i u mnogo šta drugo. Kad, recimo, s kolegom iz ekipe Alenom počnem o bijelim kristalićima što se svjetlucaju po putu, odmah reagira: nije kvarc (kako sam pogrešno smatrao) već kalcit.
Idemo redom pa ćemo najprije do šestostrane branič kule na Visu. Nije podzidana još od kraja šezdesetih godina prošlog stoljeća kada je naš najveći arheolog dr. Pavo Anđelić istraživao Bobovac, žrtvovavši osam ljeta života za taj projekt. Nedavno baš čitam jednu franjevačku kroniku u kojoj se opisuje izlet fratara na Bobovac: do Sutjeske su došli sa tri auta, tu su im subraća dala magarca, da barem ne nose stvari na sebi, a kad su nakon trosatnog pješačenja stigli do Bobovca, gore su zatekli Pavu Anđelića i konzervatora Antu Kućana. Anđelić je gore provodio čitava ljeta, rijetko silazeći čak i u Sutjesku. S Visa je pogled na kraljevsku grobnu kapelu i kraljevsku palaču najljepši, a u daljini se sjaji i Radakova stijena.
Na Bobovcu se od 1350. do 1463. godine i pada Bosne čuvala kraljevska kruna, a grad je uvijek bio opskrbljen svim što je trebalo za slučaj opsade, koja je, što se toga tiče, mogla potrajati dvije godine, toliko su ambari i magaze bili napunjeni. Zato ga je 1350. godine, iako tada nije bio utvrđen ni blizu kao kasnije, srpski car Stefan Dušan opsjedao uzalud i kući se vratio praznih ruku, a uspjeli su ga osvojiti jedino Mađari 1407. godine, ali se tu ionako radilo o unutarbosanskoj borbi za krunu između Ostoje i Tvrtka Tvrtkovića, odnosno prougarske i narodne stranke, pa ne treba sumnjati da je grad pao ponajprije zbog unutarnje nesloge.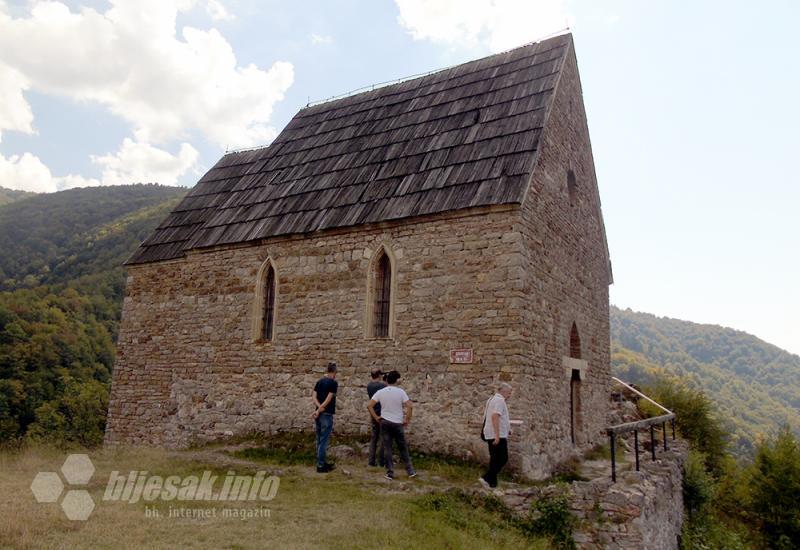 Predaja kaže da je Mehmed el-Fatih sa 20 000 vojnika sedam godina opsjedao Bobovac, svakodnevno rušeći njegovih 11 kula, ali što bi on danju srušio, to bi narod noću obnovio. Kad je jednom svu svoju vojsku usmjerio da napada Vis, branitelji saznaju za to i za noć podignu kulu, ovu s koje sad gledamo grad, radeći tolik naporno da je te noći, kaže legenda, 77 trudnica pobacilo i 77 kobila se oždrijebilo. Pošto od napada nije bilo fajde, kaže dalje legenda, sultan po uhodi poruči zapovjedniku obrane knezu Radaku, pokatoličenom bogumilu, da će ga bogato nagraditi ako mu preda grad, što ovaj i učini. Kad je sultanova vojska napokon ušla u tvrdi grad, priđe i Radak, primiti nagradu za izdaju i prisegnuti sultanu na vjeru, a ovaj mu reče da kako će biti vjeran njemu ako nije bio vjeran svome gospodaru kralju i posla vojnike da ga odvedu na stijenu izvan grada i tu ga skrate za glavu. To je bila nagrada, a naziv Radakova stijena i danas podsjeća na to kako završavaju izdajice.
Tako kaže legenda, a nešto pouzdanijom bi se ipak mogao smatrati makar ipak ne sasvim siguran podatak da je grad osvojen uz pomoć posebnih topova koje je za sultana načinio neki Nijemac Jörg iz Nürnberga. Kako god, pred kapelom se danas, nakon puno stoljeća, ponovno ponosno vijori zastava s grbom Kotromanića. Na trgu ispred nje je bunar, stoljećima zasut, danas jedva pristojno uređen i ništa više od toga. U bunaru je Anđelić našao zvona, izljevena u Šibeniku početkom 15. stoljeća, a Austrijanci su za svojih istraživanja nakon osvojenja ovog područja 1878. godine, tu našli znameniti bakarni kotlić, izrađen u Veneciji, koji se danas čuva u sutješkom samostanskom muzeju. Šta su još našli, nikada niko neće saznati, ali se zna da su Bobovac čitavih 12 godina držali zatvorenim, pod danonoćnom stražom. Zidine kapele, nedovršene velike crkve pored nje i palače, kao i sve drugo, ostavili su vremenu da ih polako mrvi u prah i sreća što se našao Pavo Anđelić i spasio barem kapelu, rekonstruiravši je za ono doba najvjernije što se moglo.
Slučajno sam se prije sedam godina zatekao na Bobovcu u vrijeme posljednje obnove kapele, koja je danas uređena i pod ključem. Prije toga sam unutra znao zateći konje ili ovce u plandovanju, a zidovi su sve do krovnog dijela bili ispunjeni potpisima ljudi koji su na kraljevskim grobovima znali čak raspaliti roštilj. Nekad bogate kamene dekoracije na vratima i prozorima, freske od poda do stropa, jedan komadić se nazire i sad, a onda imena luda što nalaze se svuda 🙁 U kapeli je u pet grobnica nađeno devet kostura. Poznato je da su se tu dali sahraniti kraljevi Stjepan Ostoja, Tvrtko II. Tvrtković i Stjepan Tomaš. Samo jedna žena bila je dostojna naći vječni smiraj u kapeli, i to, pretpostavlja se, supruga Tvrtka II. Doroteja Gorjanska. Između njih dvoje nalazio se mali dječji grob, a povjesničari pretpostavljaju da se radi o njihovom djetetu.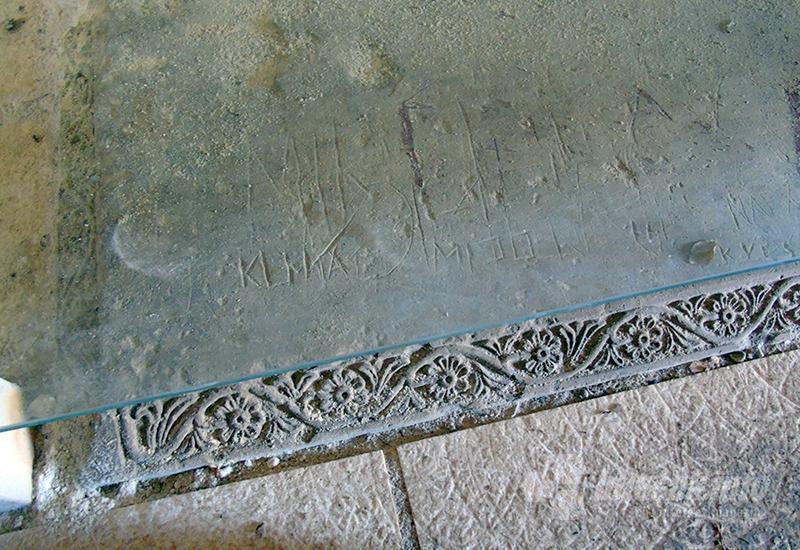 U kapeli je polumrak, tajanstven i nabijen zgusnutim slikama nekadašnjeg. U kutu, uz komade srednjovjekovne kamene plastike ili replike, ko bi znao, i višak ploča preostao od uređenja ponutrice. Stakla iznad grobnih ploča peksinava, a potkošulja mi je ionako već mokra pa je skidam i brišem ih. Šteta je ne uslikati bordure na grobu Doroteje Gorjanske, a usput se čudim kad na ploči vidim slova, ne znam za taj natpis. Ispostavlja se da su neki bili toliko marljivi da su ime, osim po zidovima, uspjeli urezati i na kraljičinu ploču 🙁
Naravno da nastavljamo i prema kraljevskoj palači, zarasloj u šiblje i granje. Do prije nekoliko godina postojao je fin običaj da vojska jednom godišnje raskreše sve oko pristupnih staza, ali je izgleda odumro. I od donje palače te južne kule zjape samo prazne i sumorne zidine, a uređena je jedino cisterna. Bezbeli bi se za vrućih ljetnih dana straža poslala na rezervo mjesto, prilazi zatvorili, a kraljica bi se koji put bućnula, čisto da ne pregori 🙂 Staze su ipak prohodne, čak su oko njih užad. Ona najstrmija, između podgrađa i glavne kule, nikako nije mogla biti drugačija na takvom terenu pa su se i njom, dolazeći kralju, verala dubrovačka, ugarska i druga poslanstva. Sad tvrdim stepenicima gazimo mi, podanici davno nestalog kraljevstva. Među njima i jedan koji se nikad ne može oteti dojmu da bi i banski dvor u Sutjesci i čitav Bobovac dosad bili obnovljeni samo da su kraljevi imali – malkice drugačija imena…