Sva magija Lionela Messija ovrijednila se u emocijama komše Zlatka
Prvomajska subota i ove godine mi nije trebala donijeti ništa posebno osim mira da se u svom malom, radnom kutku našeg doma pozabavim svim onim sitnim intelektualnim poslićima koji me još vesele. To je onaj svijet kojeg, držim to dosta sigurnim, ima većina vas i služi ponajprije onome dahnjivanju dušom i odmakom od onih uvriježenih svakodnevnih rutina i življenskih briga. Pa kako ga tko sebi i na koji način priredi i odredi.
Piše: Nicolae Golea
U neka doba, valjda oko tri popodne, ostavim taj rad da bi malo predahnuo, a opet da bih bio koristan, zapovrnem jednu oveću mjeru prvomajskog graha, bogatog špekom i kobasicama. Zapravo, po receptu iz kuharskog priručnika jednog poguzije to se prije može zvati meso s grahom. Što najprije i volim reći.
Dok se to sve duže kuha nego sam mislio da će mi ukrasti predviđenog vremena, pomalo već i razdraženo, vučem palcem po ekranu pametnog uređaja, točnije, pomoću tog uređaja po jednoj društvenoj mreži i time više ljut na sebe što tako očigledno dangubim, a što ništa ne činim da to prestanem, nailazim na tekst Borisa Dežulovića objavljenog na isti dan prije nekoliko godina, a tada u čast deset godina karijere Lea Mesija. Boris, onakav kakav zanimljiv sam po sebi jest pa tako i njegovi tekstovi, spasio me je od dodatnog "skrolanja", kako se to inače kaže, i naprosto paralizirao na dobrih, valjda, desetak minuta čitanja hvalospjeva o nogometnom bogu koji je svim drugim ponašanjima čista suprotnost "pravim" bogovima osim one najvrijednije kvalitete – samom igrom ili onim božanskim u njoj. Nimalo prenapuhano. Ali kako možeš o bogovima pisati osim tako? Ne znam sad, ali čini mi se da je ovaj uspio. A kako osjetim, i mene je zaveo… Ali nedam se ja, Dežuloviću, spomenuo si mi Neuera, za mene vratarsko božanstvo, pa čak me i uvrijedio. Tek tada sam se malo trznuo, obraz mi poskočio, dao znake života da sam tu, iako sam propustio bar pet rundi miješanja graha kako ne bi zagorio.
I osjetim da mi zanesenost redcima budi sjećanja na jednog čovjeka. Odrastao sam jutrima se budeći sa prvim pogledom prema izlozima njegovog svemira.
Reda Boris hvalospjeve o magijama božje prisutnosti u malom Argentincu, a u meni bujaju samo prizori one naše kafane, kako smo je jednostavno zvali jer sva njezina vrijednost, a nje je bilo itekako, je sažeta najbolje u toj jednostavnosti; zatim prizori onih izlizanih stolova i rasklimanih stolica, pravih i proprženih stolnjaka i onog LTH šanka, dominantnog i čvrstog kao utvrda Bobovca onomad.
Bilo je u Kraljevoj Sutjesci još ugostiteljskih jedinica, različitog tipa, ali samo je jedna kafana.
Takve stolice i takav stol sa pravim stolnjacima, odmah do tog i takvog šanka, i u njima, sjedimo učitelj Slobodan Bojević, Mario Šarić, ja i on – Zlatko Pavlović, Šiki, Šikucja, Šikson, Zlaja, a za mene kum Zlatko ili komšo. Možda ipak najprirodnije nam, i onako kako smo se najugodnije osjećali međusobno se zivkajući – komšo. Ako s ove udaljenosti dobro primjećujem, komšo je bilo i najidentičnije i najprirodnije i naj iskreno doživljenije. Jer je moja soba gledala pravo u izloge njegove, naše, kafane. Iako nije meni bio kum nego Mariu, nas dva smo od brata i sestre djeca, a u nas običaj u familiji da se svi kumamo, pa tko god kome bio kum. Samim time je kum Zlatko bio i za mene kum Zlatko. Ne krijem da smo ga i mi nerijetko znali u internim razgovorima osloviti sa Šiki. Iako možda nekome zvuči pogrdno, i mada nisam upoznat sa porijeklom i nastankom tog nadimka, a što ću obećavam istražiti, jer tada kao balavac o tome nisam ni razmišljao, duboko osjećam da nije. Ne može bit, i to odgovorno tvrdim već ovako, napamet.
Sjedimo mi tako navečer, mogu i tvrditi da je to bio utorak ili srijeda, jer je to termin za najelitnije nogometno klupsko takmičenje, i gledamo Barcelonu. Pepovu Barcelonu. Učitelj navija za Real i za još tuce europskih klubova što sam mu tad kao najkvalitetniji argument nabijao na nos kada mi Bayern izgubi, a on mi se navali na kosti sa naslađivanjem – jer pobogu nije mogao promašiti, vazda je imao neki od njih pet ili šest koji bi pobijedili pa se znao tako uvijek izvlačiti. Prateći te scene sa strane, komšo se vazda slatko smijao, to dobro pamtim. Mada se i o tome da raspravljati. Ja danas navijam za tri, simpatiziram lokal-patriotski u jednoj od tko zna koliko mojih domovina i četvrtog. Katkada se zna desiti da mi svi izgube pa se "oričim" poput onog našeg oraha iz parka u ranu jesen. Mario navija za Manchester United, a njegov kum, kum Zlatko i moj komšo za Barcelonu. Kad Barcelona igra, njen slogan "više od kluba" automatski po komšinoj zaljubljenosti i zanesenosti dadne da i naša kafana postane više od kafane. Tih, većinom devedesetak minuta, bilo je svaki put njegova doza onostranosti, bijega, izlaza u stanje opuštenosti iz napetosti dosadne svakodnevnice, najiskreniju njegovu strast i rijetke momente koji su istresali iz njega skromne emocije. A tada ih je bilo. Koliko ih je stalo u nekoliko puta za vrijeme tih devedesetak minuta te posrane igre koja u nama izaziva, kažu, one najgore strasti, toliko ih ne bi pokazao kum Zlatko ni za sedam kafanskih života uz one izlizane stolove, rasklimane stolice i iza LTH šanka, dominantnog i čvrstog poput zidina Bobovca.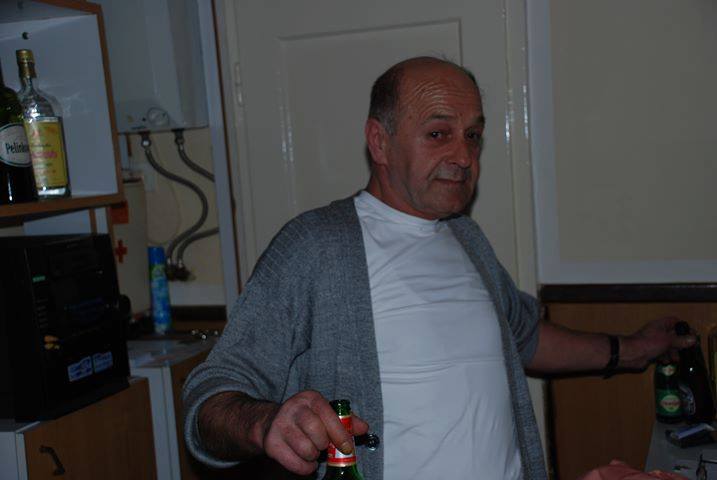 Čitao sam Dežulovića i mislio na pokojnog komšu Zlatka. I nekako se osjećao baš radosno i sretno. I da je eto baš svjedočio i uživao istinski u toj nezemaljskoj magiji zemaljskog Mesija.
Te večeri je, uostalom kao i uvijek, skoro kao i uvijek (kako se nogometnom bogu može pripisati nesavršenost "skoro", pa fino, može, dva puta je protiv Bayerna i onog Neuera izgledao kao previše trijezan na balu bogova), žario i palio veličanstvenom igrom. A mi pamtimo veličanstvene poteze kuma Zlatka dok uzima čašu piva i prinosi je lagano ustima dok traje opasan napad, zapravo i nije opasan ali lopta stiže do Mesija i samim time postaje opasnost za protivnika. Zatim taj Messi naniže nekoliko protivničkih igrača i obruši se ka golu nekog sirotog golmana. Zapravo su svi siroti pred njim. Kaže Dežulović da je i Neuer, ali ne dam ja to priznat. Neuer nije, ali to sad i nije bitno. Napreduje Messi s loptom prema golu, a tako i komšina ona čaša piva prema ustima. I taman da će popit, a Messi se ne šali, još mu ostaje da ga zabije. Kum Zlatko hitro onu čašu odmaknu od usta i krenu ustajati uz prateće glasanje: "Aaaa, aaaaaaa, aaaaa". A Messi promaši. Kum Zlatko svoje akanje završi samo dodajući još "a boga ti…". I oduševljeno sjedne. Bez imalo razočarenja. Jer jebeš gol, on je samo posljedica magije. A nogomet nam daje da ima magije i bez golova. I u tome je kum Zlatko od srca uživao kao netko tko rijetko ima kakve druge istinske radosti u kojima se može malo češće opustiti. I tu sam zaista osjetio da, iako nije imao pretjerano razumijevanje u taktiku i složenost iste, uživao je iskrenije u samoj igri od najboljeg poznavatelja Juego de Posiciona.
Kasnije je Barcelona zabila, nisam siguran koliko, a nije ni bitno. Kum Zlatko je oduševljeno skakao sa popratnim "vauuu, vauu, vauuuu…" isticanjem zadovoljstva kroz neobično glasanje, a mi se tada mladenački podsmjehivali jer je na nas djelovalo istinski šokantno – da kum Zlatko ima takav izljev emocija pred nama. A tako iskreno.
Često mi dođe u misli. Ne samo on nego većina njih s kojima sam odrastao godinama u dolini Trstionice, a nisu više s nama. Često ga se sjetim i razmišljam o svim tim kafanskim momentima. I nije to ništa neobično, dosta smo proveli vremena s njim. U kafani. Dosta toga nosimo u sjećanju. Zapravo, Mario mnogo više, jer ja slabo pamtim, a zapalo me da pišem. Kud ćeš veće muke. Meni se samo povremeno bljeskovi vraćaju, fragmenti. Dobro je da često spominjemo te trenutke pa obnovim memoriju, a i onda mi bolje nadođu neki detalji. Svakako ne mogu ništa slagat, ako sam i nešto nadodao, kako mi to volimo, nije pogrešno. Problem je u onome što nisam napisao, a vrijedilo je za kuma Zlatka. To me mori, da šta ne propustim.
Ali kada malo bolje razmislim, nema se tu šta propustiti. Četrdeset ili više godina rada i vođenja kafane, cijeli joj je život posvetio. Svima nama koji smo dolazili na bilo koji način tamo tražiti bilo što. I svih tih četrdeset ili više godina mu bila puna, i svi se vraćali u nju. A on imao samo onih devedesetak minuta. Eto, to je sve reklo.
Još jedan bljesak memorije, još jedan fragment pamtim dobro, ako mi još vjerujete. Jer mi se bolno urezao u sjećanje, a to je moguće samo ako ga istinski emotivno proživite.
Bila je nedjelja, sjećam se dobro. Sjedio sam u memljivom studentskom sobičku u Sarajevu. Popodne me je nazvala mama i saopštila mi da je komšo umro u bolnici u Tuzli. Zamalo mi tada nije došla ona ista muka kao kada sam djeda ugledao na samrtnoj postelji onako nemoćna i propala pa se po tom onesvijestio posred zeničke bolnice. Nešto mi teško bilo prihvatiti da je kum Zlatko umro. Znao sam da više nema onog našeg razgovora kada izađem iz avlije na sokak, koji započne dok još zatvaram kapiju, a on sa stolice kroz otvorena vrata naše kafane s kavom ispred sebe i cigarom među prstima progovara:
– Šta ima komšo?
– Ništa, kod tebe? Jesi vidio ono sinoć?
– Ma nema, satrali su ih, bježi, ono je sramota…
Ah, da, onaj nadimak? Pa, jednostavno je, takvom čovjeku kakav god nadimak dali, taman imao i negativne prizvuke, postaje pozitivan. Nema tog nadimka koji može komšu nagrdit. Nagrdili smo ga jedino mi ponekad, u kafani kad bi se ogriješili o norme ponašanja koje je imala ta naša kafana, a do kojih je komšo držao. Mogao si ići mnogo ispod i mnogi su išli pozamašno ali on je bio radiji primiti hladan nož u leđa nego pasjaluk.
Moglo bi se još štošta napisati o komši i našoj kafani, toliko je anegdota i proživljenih trenutaka. Uostalom kao i u brojnim drugim ugostiteljskim jedinicama. Neka o njima pišu drugi ako šta pamte vrijedno, a ja ću se potruditi da još koji put sjetim se komše i dragih trenutaka koje smo u našoj kafani proživjeli. A Messi, njemu ovdje priznajem da je zaista najveći nogometaš na svijetu ikada jer sva njegova magija se ovrijednila u emocijama mog komše Zlatka. Velik si mali Argentinče jer si kao malo tko i malo što uveseljavao komšu.