Crkva svetog Ivana i Franjevački samostan – Ljepotica u zabiti
FRANJEVAČKI SAMOSTAN KRALJEVA SUTJESKA /1385. – danas./
Prvi spomeni samostana u povijesti (1385.-1890.)Prvotni je samostan podignut najvjerojatnije u prvoj polovici 14. stoljeća. Prvi spomen o njemu nalazimo u popisu franjevačkog pisca Bartola Pisanskog iz 1385. godine. Nakon turskog osvojenja Bosne, samostan se spominje u jednom turskom popisu 1469. godine. U vrijeme progona 1524. god. samostan je nasilno porušen. Trebalo je proći dulje vremena dok franjevci nisu isposlovali dopuštenje za gradnju novoga samostana. Budući su Turci zabranjivali uporabu trajnijeg materijala (kamen, opeka), novoizgrađeni bi samostan s vremenom brže propadao, a bio je podložan i lakoj zapaljivosti. Dopuštenje za popravke teško se dobivalo, a ako bi popravku i obavili bez odobrenja, franjevci bi bili globljeni i zatvarani. Zato su nove zgrade u takvim slučajevima premazivali čađu, da ne budu upadne.
Godine 1658. izgorio je samostan sa svim dragocjenostima (arhiv, knjižnica). Novi je podignut 1664. godine. U vrijeme bečkog rata, pod konac 17. stoljeća, franjevci su ga morali, zbog velikih nameta, napustiti i živjeti po seoskim kolibama. Kada su se političke prilike smirile, ponovno su se vratili 1704. godine. Tijekom 19. stoljeća samostan je dvaput građen, posljednji put 1888-90. kad je sagrađen današnji samostan.
Samostanska crkva sv. Ive Krstitelja (1385.-1905.)
Sličnu sudbinu kao i samostan imala je i crkva, posvećena sv. Ivanu Krstitelju. Porušena je 1524. godine, ali je uskoro obnovljena, jer se već 1530. spominje u jednom dokumentu: renovirana je 1596. g. Nju nije zahvatio požar u kojem je izgorio samostan 1658. godine. U 18. stoljeću dvaput je obnavljana: 1728. i 1784/5. godine. Ipak je zbog dotrajalosti 1821. porušena i nanovo izgrađena, da bi opet 1858. na njezinu mjestu bila podignuta nova.
Tijekom 17. i 18. stoljeća nabavljeni su glavni i pet pobočnih oltara, koji su vjerojatno rađeni u stilu ranog baroka. Njih više nema, ali su postojali sve do rušenja crkve 1905. g.; 1865. za crkvu su nabavljene orgulje, koje su sačuvane i koje su još uvijek u funkciji (restaurirane).
LJEPOTICA U ZABITI
Nekoć kraljevsko sjedište, danas je Kraljeva Sutjeska tiho, zabitno mjesto. Iz zaborava je budi njezin franjevački samostan i crkva, koja bi mogla biti graditeljski i duhovni ukras bilo kojega europskog grada.
Prethodnice sadašnje crkve
Težak je zadatak pregledati što se radilo kroz šest stoljeća. Podijelimo stoga to dugo vrijeme u manja razdoblja:
a) od početka, tj. od 1350. do 1524.;
b) razdoblje žestokih progona (16. i 17. stoljeće);
c) 18. stoljeće polaganoga napredovanja;
d) 19. stoljeće, u očekivanju oslobođenja.
Od 1350. – 1524
O prvom razdoblju može se tek malo reći: da je crkva bila sagrađena kad i samostan (oko 1350.). Sudeći prema drugim, djelomično sačuvanim, bosanskim crkvama, ona je bila pravokutnog oblika, s nešto manjim pravokutnim svetištem, u gotskom stilu. Ne znamo također je li ostala čitava kad je Mehmed II. g. 1463. osvojio Bosnu; ako su je Turci porušili, bila je uskoro podignuta nova.
Razdoblje vjerskih progona u 16. i 17. st.
Godine 1524. sutješka je crkva (zajedno s onima u Visokom, Fojnici, Kreševu i Konjicu) bila do temelja porušena. Bilo je to vrijeme naglog napredovanja Turaka: g. 1521. osvojili su Beograd, g. 1526. kod Mohača porazili kršćane, g. 1529. prvi put opsjeli Beč. Nakon duljeg vremena (1596.) sutješki su franjevci, plativši golemu pristojbu od 900 dukata za samu dozvolu, podigli samostan i crkvu. Ali, bila je to zgrada koja jedva zaslužuje ime arhitekture: građena je od ćerpiča (nepečene opeke, osušene na suncu)! U sljedećem stoljeću samostan je dvaput gorio (g. 1658. i 1664.), ali je crkva tada ostala pošteđena: izmakla je požaru jer je bila 20-tak metara odmaknuta od samostana. Za Bečkog rata (1683-1699.), sutješki su franjevci morali napustiti i samostan i crkvu i kriti se u seljačkom odijelu po šumama (do 1704.) pa su i samostan i crkva tih godina bili teško oronuli.
18. st. – Stoljeće polaganog napredovanja
U 18. st. (g. 1728.) crkva je bila potpuno obnovljena: s tri strane bila je ozidana kamenom. Imala je tada i bačvasti svod izrađen od drveta, u potpunosti dovršen tek kasnije (g. 1784. – 5.) Još prije toga (1738.) popločali su crkvu kamenim pločama. Crkva je tada imala i brojne oltare s vrijednim slikama, nabavljenim u Veneciji (od konca 16. do 18. st.). Slike su, izuzevši dvije, nestale prilikom rušenja crkve g. 1905.
19. st. – U očekivanju oslobođenja
Početkom 19. st. crkva je opet bila ruševna pa su je g. 1821. srušili i na istom mjestu podigli novu. Nakon nepunih 30 godina (1858.) i tu su crkvu zamijenili drugom, koju su neznatno produžili (za nekoliko stopa) i ukrasili na "talijanski način" tj. u baroknom stilu. Sad znamo i njezine mjere: 34,7 m duga i 19 m široka. Znamo donekle i kako je izgledala izvana i iznutra jer su sačuvane skromne fotografije. U nju su bili preneseni svi oltari ranije crkve i ona je dočekala 20. st.
Sve su ove crkve s arhitektonskog gledišta vrlo skromne: nose biljeg prilika u kojima su nastale. Možda se netko upita: spadaju li one u umjetničku arhitekturu? Ma kako mi odgovorili na to pitanje, stoji tvrdnja da su one vjerna slika ondašnjih prilika: iako sirotinjske, one su plod silnih žrtava oko podizanja i uzdržavanja. Time su one bile jedinstveni spomenici ljubavi i požrtvovanosti franjevaca i bosanskih vjernika.
Sadašnja crkva
Nakon dugotrajnog i, za bosanske katolike, mračnog turskog vremena svanuo je i na ovom području vedar, svijetao dan. O tome svjedoči upravo i sutješka crkva: iznikla je u zabitnom kraju, a po svojoj graditeljskoj vrijednosti mogla bi stajati u bilo kojem europskom gradu. – Pogledajmo najprije a) njezinu ponutricu), b) njezinu vanjštinu i c) njezinu opremu.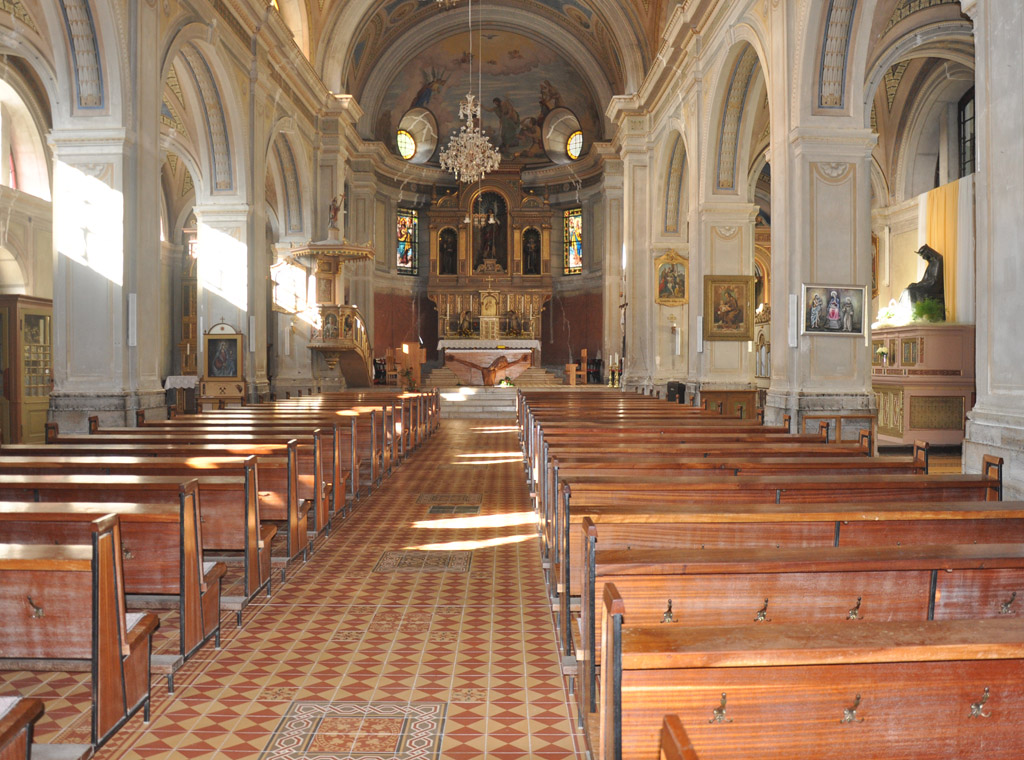 Ponutrica
Ovu crkvu, koja je duga 39,40, široka 18,10 a visoka 13,60 metara, možemo podijeliti na prilazni prostor, na središnji ili glavni dio, te na svetište. Pođimo od glavnog dijela!
Središnji ili glavni dio sastoji se od srednje i dviju bočnih lađa. Najvažnija je srednja. Ona je s lijeve i desne strane omeđena četvrtastim stupovima, koji se na određenoj visini spajaju polukružnim lukovima; iznad njih se dalje nastavlja zid, završen atulom («gesimsom») a nad njom se izvija bačvasti svod.
Stupovi vode naše oko u dva smjera. Jedan ide naprijed, prema svetištu, do svetohraništa; ono i jest onaj magnet koji nas privlači; stupovi kao da upravljaju naše korake prema njemu. Drugi smjer vodi nam oko uvis, prema svodu, u koji su urezani polukružni prozori, kroz koje se ulijeva dovoljno svjetla. Sve ovo bogatstvo raznovrsnih pojedinosti, sređeno je i dovedeno u sklad i ostavlja na nas svečan dojam.
Pobočne su lađe mnogo uže i niže od srednje a njihovi otvori prema njoj visoki su i široki pa se sve pretvara u donekle jedinstven prostor. I na pobočnim lađama stoje polukružni prozori pa je i ovdje prostor dovoljno svijetao.
Svetište, široko koliko i srednja lađa, dosta je duboko (8 m ). Završava se polukružno i na svodu je, na odgovarajući način, zaobljeno. Ono je i znatno izdignuto iznad razine crkve.
Pristupni dio, ispod kora, ne prelazi širinu srednje lađe osim na desnom kraju. Taj je dio dosta mračan pa se tim jače ističe osvijetljena lađa. Nad njim se proteže pjevački kor s orguljama. U ovom se dijelu nalazi glavni (istočni) ulaz u crkvu izvana; osim njega ima još jedan (južni) ulaz.
Vanjština crkve
Pročelje je na ovoj crkvi okrenuto prema istoku i za pogled je neprikladno jer pred sobom nema širega prostora. U sredini stoji portal a nad njim velik polukružni prozor i onda zabat s drugim, manjim kružnim prozorom. Srednji dio pročelja uokviruju dva skladna, dosta vitka, zvonika kvadratičnog presjeka, visine 45 m, pokrivena bakarnim krovom. U donjim katovima zvonici imaju po jedan a na završnom po dva prozora unaokolo; završava ih krov u obliku poletne, pravilne piramide.
Smještena u predio s bujnim raslinjem, crkva – u ovom zabitnom kraju – djeluje monumentalno i ujedno skladno.
Oprema crkve
Crkva je ukrašena ornamentima, kojima se želi naglasiti dijelove koji su graditeljski važni – stupce, atule, lukove… Po stropu, obojenom plavom bojom, razmješteni su medaljoni sa slikama svetaca (djelo M. Antoninija, g. 1910.), ostvareno bez vlastita nadahnuća a skromne, šablonske izrade. Nešto ambicioznija je slika na svodu svetišta "Krštenje na Jordanu". Kao cjelina, po svom općem dojmu, ova se dekoracija ipak uklapa u svečani ugođaj cjeline.
Oltari su, prema nekadašnjem shvaćanju i potrebama, ranije bili brojni. Ovdje ćemo istaknuti samo glavni i Gospin. Glavni oltar, tirolskoga, renesansnog "stila" od drveta, djelo je firme Ferd. Stuflesser, St. Ulrich-Gröden i ima sve uobičajene dijelove ovih oltara: ispod menze vidimo reljef zadnje večere, nad menzom bogatu predelu a iznad nje tri niše; u najvećoj stoji sv. Ivan Krstitelj. Ostalo su kitnjasti dodaci. Oltar, gledan kao cjelina, skladno završava hod stupova i popunjava zaokruženost svetišta.
Gospin oltar ima zanimljiv kip. S rukama uzdignutima uvis, s naborima odijela koji prate taj pokret, ovaj se lik izdvaja između ostalih, iako crvena boja Gospine haljine djeluje ponešto zemaljski teško a i lice bi trebalo biti produhovljenije.
Oprema ove crkve po svojoj estetskoj vrijednosti zaostaje za onom iz 17. i 18. st. No ljepota prostora, doživljaj sklada i svečani ugođaj neusporedivo nadvisuju sve što se moglo doživjeti u arhitekturi ranijih sutjeških crkava turskog razdoblja.
Povijest gradnje nove crkve
Dobra je bila zamisao da se izrada nacrta povjeri nadarenom i odlično školovanom arhitektu Josipu pl. Vancašu (1859. – 1932.). Bio je umjetnički obrazovan i surađivao s najistaknutijim austrijskim graditeljima svoga vremena. Kad se gradila ova crkva, on je za sobom već imao čitav niz graditeljskih ostvarenja, medu njima i sarajevsku katedralu u rano gotskom stilu. Istina je da se on i ovdje ugleda u ranije, renesansne, uzore, no bez obzira na to, ovdje je ostvareno izvanredno skladno djelo. Promatraš ga i ne nalaziš mu mane barem što se tiče arhitekture. Slabosti su drugdje: očituju se u dekoraciji i zidnim slikama, u zanatskoj obradi oltara, no te slabosti ne mogu ugroziti izuzetni sklad ove crkve. Vjerujem da je i sam Vancaš bio vrlo zadovoljan svojim djelom.
Gradnju je nadgledao iskusni Franjo Holz iz Požege. Ona je započeta 1906. a pod krov je došla 25.10.1907. Na njoj se radilo još 1910., kad je u računima sutješkoga samostana zabilježeno da je na crkvu dotada utrošeno 205.000 kruna, osim izdataka za hranu i piće radnicima. To je bila znatno veća svota nego što je bilo predviđeno, pa je samostan prodao mnogo zemljišta (npr. u Borovici) da ne bi morao plaćati goleme kamate na dug.
Kasnija dogradnja
Svaka zgrada doživi tijekom vremena neke promjene zbog oštećenja što ih izazovu prirodne nepogode ili čovjekovi neprilični postupci. Ona vapi za popravkom a često iskrsnu i nove potrebe, nepoznate u doba gradnje.
Na sutješkoj je crkvi bilo dosta takvih popravaka no ovdje ćemo se osvrnuti samo na posljednju temeljitu obnovu samostana od 1982. do 1988., naravno, samo koliko se ona tiče crkve. Tu je obnovu vodio tadašnji gvardijan fra Ruđer Radoš prema planu što ga je izradio arh. Vinko Grabovac, iz Zagreba.
Terasa
Na ovoj je crkvi pristup glavnom, istočnom ulazu u crkvu (onom od strane rijeke) bio vrlo nezgodan. Do njega je, uz to istočno pročelje, vodilo stubište sa dva kraka, sjevernim i južnim. Njime se penjalo do razine crkvenoga poda i do ulaza u crkvu. Ono je smetalo oku a nije bilo ni za uspinjanje pogodno; taj teški nedostatak trebalo je ispraviti. U tu je svrhu arhitekt – u razini crkve – s istočne i s južne njezine strane, izgradio prostranu terasu s ogradom. Ona počiva na visokim stupovima, koji su spojeni u arkadu. Tako ono istočno pročelje nije više neugledno. S južne strane proveo je arhitekt do spomenute terase široko, udobno i gotovo raskošno, stubište, s lijepom kamenom ogradom, s odmorištima i svjetiljkama. Tako se ovom terasom dobilo mjesto za razgledanje okoliša, a ujedno i ugodan odmor prije nego što se stupi u crkvu. Na donjem kraju ispod terase ostvareno je prostrano parkiralište.
Bilo bi poželjno da i drugi, budući zahvati na ovoj crkvi budu ovako dobro promišljeni i sretno riješeni.
Dr. fra Ignacije GAVRAN – Članak pod naslovom "Ljepotica u zabit", objavljen u Svjetlu riječi, katoličkom časopisu za vjeru, društvo i kulturu, Sarajevo, ožujak 2000., str. 62-63
Samostanska crkva sv. Ive Krstitelja (sadašnje izdanje)
Sadašnja crkva, bazilikalnog tipa u neorenesansnu obliku, izgrađena je 1906-1908, po nacrtima arhitekte Josipa Vancaša. Sa svoja dva vitka zvonika ona ide u red lijepih arhitektonskih ostvarenja. Njezinu ponutricu oslikao je Marko Antonini 1908. g. Kako je crkva posvećena sv. Ivanu Krstitelju, središnja je Antoninijeva slika "Krštenje na rijeci Jordanu" smještena u konhi apside. U crkvi su 1909. godine postavljene nove orgulje, što ih je izgradila firma M. Heferer iz Zagreba. U kripti crkve nalazi se kameni sarkofag iz 15. stoljeća, za koji se donedavno vjerovalo da čuva posmrtne ostatke pretposljednjeg bosanskog kralja.
U novije vrijeme u crkvi je postavljena brončana skulptura bosanske kraljice Katarine, rad akademskog kipara Josipa Marinovića iz Zagreba. Pred crkvom je bista kraljice Katarine kiparice Ane Kovač, a na potpornom zidu u klaustru samostana izveden je križni put u mozaiku (autor: Vlatko Blažanović).