Znate li kako je počeo Susret Sutješčana?
Susret Sutješčana je manifestacija koja je doživjela 19 izdanja i već je u pripremi jubilarno 20. izdanje koje se ima održati u kolovozu 2022. godine (detaljno o jubilarnom 20. izdanju čitaj OVDJE).
Piše: Nicolae Golea
Godinama je to bilo okupljanje ljudi iz Kraljeve Sutjeske i njihovih prijatelja uz razne kulturno-sportske sadržaje. Održavani su koncerti brojnih bendova, nogometne utakmice, biciklističke ture, povlačenje konopca i brojni drugi zabavni sadržaji. Dakako, uvijek je osnovni cilj bio susret i druženje ljudi koji žive u Kraljevoj Sutjesci i onih koji su morali napustiti rodnu grudu pa se razasuti po svijetu zažele Sutjeske i svoje godišnje odmore provode redovito uz Trstionicu.
A uvijek su dobrodošli i svi prijatelji našeg malog mjesta.
I kao što je to i prije bio slučaj, jer ljudi su uvijek voljeli doći u naše stolno mjesto, na igrankama je često znalo biti ljudi iz drugih mjesta i gradova srednje Bosne i Sarajeva. Tako je i na Susretima Sutješčana bilo gostiju i "sa strane".

Iako su zadnje dvije godine bile teške zbog globalne pandemije koja je otežala kretanja ljudi diljem svijeta pa se tako okupio znatno manji broj Sutješčana ali ideja se održala i ide ka svom jubilarnom izdanju.
Za Susret Sutješčana kao manifestaciju koja je prerasla već u tradicionalnu najzaslužniji su naši kreativni sumještani Zora Trgovčević i Ivan Filipović koji su ideju jednog ovakvog okupljanja pokrenuli doslovno uz "pivo u nekom bircu".
Zaneseni dobrom idejom i entuzijazmom vrlo su jednostavno i bez puno polemiziranja odlučili da je najpogodniji trenutak za jedan ovakav susret na ljeto, otprilike, oko Velike Gospe. I tako i bi!
Prvi Susret Sutješčana na kojemu se okupilo nekoliko desetaka naših sumještana održan je na Milankovcu 2003. godine na obali Trstionice. Još sljedeće godine susret je bio na Milankovcu, točnije ovoga puta na Raletovom ranču, da bi već treće po redu izdanje preselilo na Pijesak. Od tada pa sve do 15. izdanja, svaki je održan na Pijesku. Zatim se okupljanje preselilo u Dom kulture Kraljeva Sutjeska iz praktičnih razloga.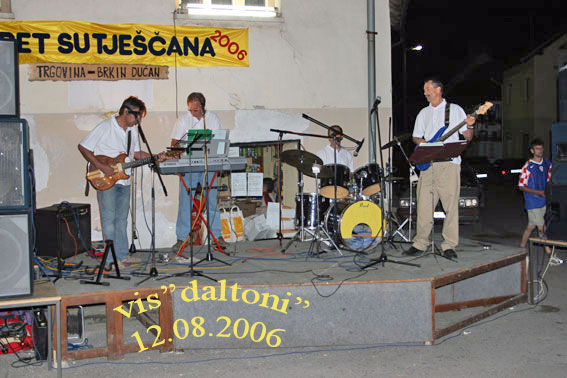 Pamtimo najbolje fešte sa Pijeska kada se znalo okupiti više stotina Sutješčana i prijatelja. Tako smo 2006. godine svjedočili ponovnom okupljanju sutješkog kultnog vokalno-instrumentalnog sastava Daltoni. Uz njih je svirao i tada novoosnovani frama bend mladih Kraljeve Sutjeske – Stigmate. Nekoliko godina poslije na vjerojatno najjačem susretu od svih 19 do sada održanih žarili i palili su dečki iz kakanjskog benda Auto – Stop (službeni bend Halida Bešlića) sa "našim" Ićom (Rastislav Guberac) na bubnjevima, a kasnije im se pridružio i prvak bh. opere, Ivica Šarić. Fešte su znale potrajati i danima, a Pijesak znao biti tijesan, atmosfera užarena.
No, kako su godine odmicale, a raznorazne okolnosti uticale entuzijazam je opao pa je Susret Sutješčana izgubio na masovnosti ali nikada nije doveden u pitanje. Niti smije! U tom raspoloženju želja je da se jubilarno 20. izdanje ponovno obogati raznoraznim programom i ponudom te da se pobudi želja i interesiranje Sutješčana za rodni kraj. Pogotovo što dolaze mlađi naraštaji koji su rođeni drugdje ali nose sutješke korijene i treba da dobiju dozu energije iz rodne grude njihovih majki i očeva, baka i djedova. Uskoro ćemo objaviti točan datum, a na vama je da na vrijeme rezervirate godišnje odmore i dođete da uživate. U toku je formiranje organizacijskog odbora za jubilarno izdanje kako bi sve prošlo u najboljem redu. Redovito ćemo izvještavati o idejama i planovima za dvadeseto izdanje Susreta Sutješčana.
"Tu sam nik'o, tu obik'o, tu se rodio"
OVDJE pogledajte fotogaleriju sa prvog susreta na Milankovcu iz 2003. godine